Retractable Awnings in Atlanta, GA
Specializing in Residential & Commercial Products for Over 18 Years.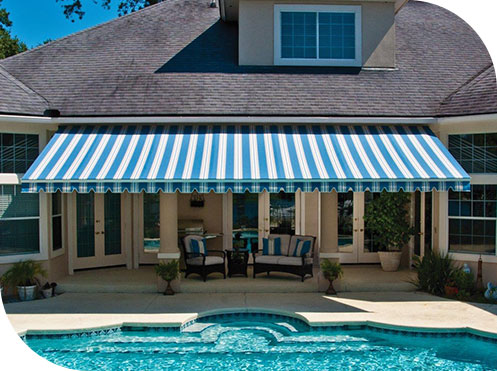 Retractable Awnings are a great way to enhance the aesthetic appeal and extend the usable living space of any backyard, patio, deck or balcony. Without the use vertical of posts or poles blocking your view Retractable Awnings can be stopped in any position you choose and are operated either by hand crank or electric motor via a wall mounted switch or hand held remote control, we carry custom widths and projections with over 160 fabric colors even the most discerning clients are sure to find something to fit their lifestyle.
The Following Are Features Of The Two Types Of Awnings/ Canopies We Provide:
CONTINENTAL FEATURES
Projections of: 5'3", 7'0", 8'6", 10'3", 11'6", and 13'0'
Custom widths
Powder coated finishes: white, bronze, and anodized aluminum (silver)
Aluminum extrusion framework and Aluminum die-cast components
Stainless steel fasteners
CADETTE FEATURES:
Spring tensioned pivoting arms
Projections of: 1'6", 2'0", 2'6", 3'0", 3'6", and 4'0"
Arms rotate 120 degrees
Custom widths up to 15' wide
Aluminum hood to protect and conceal fabric
Power coated finishes: white, bronze, ​